SKU: 5530 / 5320
Noni Juice…people love it, and more importantly, they love how they feel when they drink it!
Why Noni Juice?
Pacific Islanders have enjoyed the health benefits of the Noni fruit for thousands of years. Naturally rich in vitamins, minerals, enzymes, antioxidants, phytonutrients, and bioflavonoids, Noni fruit works at a cellular level in the body to support the natural function of the immune system.
What makes NHT Global's Premium Noni Juice different?
Our Noni fruit is harvested on Internationally Certified Organic plantations in the purest land in the world… the famed Samoan Islands of the South Pacific. It is the furthest from any corrupting influence, the trade winds blow clean air, and the soil is rich from tropical vegetation and the minerals of volcanic activity.
NHT Global is proud to partner in a 'chief to chief' quality juicing process. The Noni fruit is ordered with a call to a Samoan Chief, from a plantation that has been in the Chief's family for centuries – 'chief to chief' quality. The fruit is harvested, aged, and flash pasteurized ONCE to maintain the purity, effectiveness, flavor and highest quality of Noni fruit possible.
No other Noni product compares NHT Global's Premium Noni Juice. It's Noni, the way nature intended…
USDA Organic and QAI logos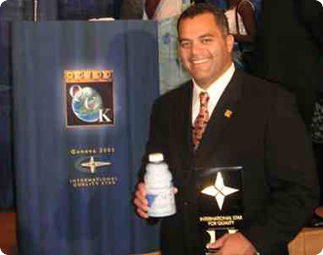 Chief Fred Siaosi in Geneva Switzerland receiving the 'International Star for Quality' award for NHT Global Premium Noni Juice.
Key Ingredients
Pure Aged Noni (Morinda Citrifolia) Juice

Reconstituted Morinda Citrifolia Fruit Juice from Organic Noni Puree
Noni Powder
White Grape Juice Concentrate
Concord Grape Juice Concentrate
Pineapple Juice Puree
Natural Flavors
100% Fruit Juice
*Preservative Free
Key Benefits
Immune system support
Increased energy level
Supply of antioxidants to help rid the body of harmful free radicals
Suggested Use
Cautions
Shake well before using

Refrigerate afetr opening

Consult your healthcare professional prior to use if taking medication or if under medical care