Omega-3 Essential Fatty Acids
SKU: 8701
It is commonly believed that 'fats' are scary. In reality, fats can be classified into 'good fats' and 'bad fats'. Consumption of 'good fats' is essential to the optimal function of vital bodily systems. Fats found in various sources of food can be broken down into different types of fatty acids in the body. Among those, Omega-3 fatty acids are essential fatty acids and also the component of cell membranes. However, these fatty acids cannot be made by the body and must be obtained through food. In recent years, many studies have proven the importance of Omega-3s to human health. Lacking these essential acids could lead to fatigue, dry skin, fragile nails and hair, constipation, depression, weak joints, difficulty to focus and other symptoms.
Essential Elements to Good Health
NHT Global's Omega 3 Essential Fatty Acids is extracted from high quality fish and made in the USA. Each serving contains 600mg of EPA and 400mg of DHA, which is prescription potency. EPA is vital to cardiovascular health, while DHA is an important component of the brain and retina in fetal development. According to the FDA, supportive, but not conclusive, research shows that consumption of EPA and DHA omega-3 fatty acids may reduce the risk of coronary heart disease. The FDA recommends a daily intake of up to 2000 mg of Omega-3 fish oil from supplements.
Specialized production techniques and a proprietary antioxidant blend are used to protect the oils from oxidization. This product is natural lemon & lime flavor and tested for more than 500 potential contaminants. Quality and safety guaranteed!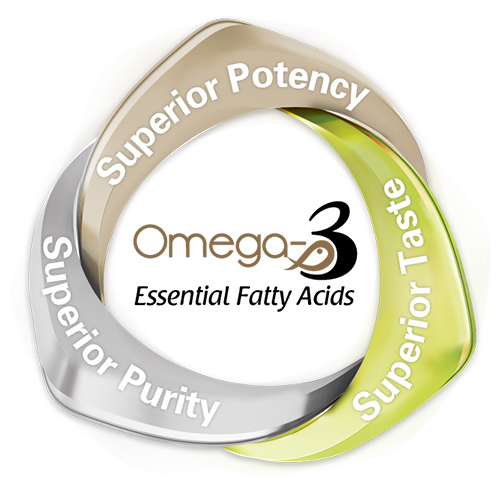 Commitment to Sustainability
The fish oil used in NHT Global's Omega-3 Essential Fatty Acids comes from sustainable sources that meet the strict certification standards of Friends of the Sea (FOS Certificate no.: 055-2016-FFW), an international organization dedicated to the conservation of marine habitats around the world.
Key Ingredients
Highly refined and concentrated omega-3 fish oil, capsule (gelatin, glycerin and purified water), natural lemon and lime flavor, proprietary antioxidant blend (consisting of rosemary extract, ascorbyl palmitate and natural tocopherols). Contains Fish (anchovies, sardines, mackerel).
Key Benefits
May reduce the risk of heart disease
Improve cognitive function and neurological development in fetuses
Support the health of the macula and retina of the eye
Alleviate symptoms of arthritis by reducing stiffness and joint pain
Promote fat metabolism
Direction of Use
Adults: Take 2 soft gels daily, preferably 10 minutes before a meal.
Children 4+: One soft gel daily.
Cautions
Consult your healthcare professional before use, if pregnant or lactating, suspect a medical condition, or are taking prescription drugs.
Do not consume if you have a sensitivity or allergy to fish.
Store in a cool, dry place. Refrigerate after opening.